OFFICIAL SITE:
WILLY MITCHELL
Writer | Author | Storyteller
Welcome to my website.
I always thought that I had at least one book in me, or so the saying goes, and that first book was Operation ARGUS, almost four years in the making. I wanted to continue the story and expand through its sequel, Bikini Bravo, both international thrillers, and the writing bug took hold!
​
Book number three, Cold Courage tells the incredible story of Shackleton's Trans-Antarctic Expedition of 1914 and all that was happening in those extraordinary times.
On Shackleton's ship, the Endurance, there was a carpenter, Harry McNish, and his cat, Mrs. Chippy. Dramming is book number four, a book of poems, and shares some previously unseen poetry.
​
Welcome to my site and I do hope you enjoy the stories.
Willy Mitchell was born in Glasgow, Scotland. He spent a lot of time in bars as a kid growing up, in his youth and into adulthood. He always appreciated the stories. Some true, some imagination and some delusional. But these stories are true. Willy Mitchell was there!
A shipyard worker, he headed down from Scotland to Yorkshire with his family to work in the steel mills. He retired and turned to write some of the tales that he had listened to over all those years and focused on bringing those stories to life.

It's the final months of the 2016 campaign for the United States presidency. There is no question that the world is on edge. Mitch is a former British Special Air Service leader who is cautiously going about his life and business. In the international thriller, Mitch and a group of friends become intertwined in a complex mystery involving a drug cartel, the CIA, IRA, and the Russian mob while investigating a couple of mysterious deaths of former colleagues.
​
Are you ready for the truth?
COLD COURAGE
Extraordinary Times
Due for Release:

December 2019
Cold Courage starts with Willy Mitchell's grandfather meeting with Harry McNish in Wellington, New Zealand in 1929. In exchange for a hot meal and a pint or two, McNish told his story of the Endurance and the Imperial Trans-Antarctic Expedition of 1914.
According to legend, 1913, Sir Ernest Shackleton posted a classified advertisement in the London Times:
MEN WANTED: For a hazardous journey, small wages, bitter cold, long months of complete darkness, constant danger, safe return doubtful. Honor and recognition in case of success.
According to Shackleton, that advert attracted over 5,000 applicants, surely a sign of the times.
Following the assassination of Archduke Ferdinand earlier that year, at the beginning of August, the First World War was being declared across Europe, and with the blessing of the King, the approval to 'proceed' from the First Sea Lord, the Endurance set sail from Plymouth, England on its way to Buenos Aires, Argentina to meet with the entire 28-man crew, and sail South.
Shackleton was keen to win back the polar exploration crown for the Empire and be the first to transit across the Antarctic from one side to the other.
The Endurance and her sister ship, the Aurora both suffered defeat, resulted in thirty-seven of Shackleton's men being stranded at opposite ends of the continent, shipless, cold, hungry, and fighting mother nature herself for survival.
This is a tale of the great age of exploration and the extraordinary journey that these men endured, not only in Antarctica but upon their return to England amidst the Great War.
This is the story of the Endurance, the Imperial Trans-Antarctic Expedition of 1914, and all that was happening in those extraordinary times.
Bikini Bravo is my second book and sequel to Operation ARGUS. A complex group of collaborators plot to take over the 6th largest oil-rich nation in Africa. Money, greed, power all motivate these different parties fueled with corruption, deceit and hidden under a dark veil of Maskirovka. Mitch and his daughter Bella lead the struggle against these dark forces at work.
​
Are you ready for the truth?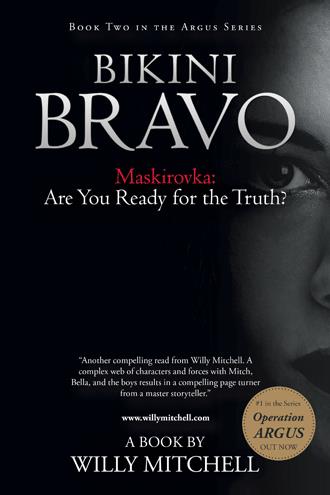 One doesn't discover new lands without consenting to lose sight, for a very long time, of the shore