OFFICIAL SITE:
WILLY MITCHELL
Indie Author | Writer | Storyteller
WELCOME!
I always thought that I had at least one book in me, or so the saying goes, and that first book was Operation ARGUS, almost four years in the making. I wanted to continue the story and expand through its sequel, Bikini BRAVO, both international thrillers. The writing bug truly took hold!
​
Book number three, Cold COURAGE tells the incredible story of Shackleton's Trans-Antarctic Expedition of 1914, and all that was happening in those extraordinary times.
​
Book number four is Northern ECHO, the story of two boys growing up in the north of England during the Punk-Rock revolution and a dark secret that keeps them apart until the end.
​
Book number five is Gipsy MOTH and tells the tale of Aviatrix and pioneers in the golden age of aviation, magic, mystery and tragedy.
​
All my books are available at many online retail stores including iUniverse, IndieBound, Amazon, and many many more. Also available for wholesale through Ingram Global Distribution.
​
Bibliography
1. Operation ARGUS (2018)
2. Bikini BRAVO (2019)
3. Cold COURAGE (2019)
4. Dramming, a book of Poetry (TBC)
5. Northern ECHO (2020)
6. Foxtrot OSCAR (Scheduled for 2021)
7. Gipsy MOTH (End of 2020)
8. Hotel ODESSA (TBC)
9. SS Indigo (TBC)
​
Welcome to my site and I do hope you enjoy the stories and how they come to life.
Willy Mitchell was born in Glasgow, Scotland, with origins from the shipyards of the Clyde. He has spent many an hour in hostelries around the world and heard many a story - some true, some fiction, and some of legend.

After heading south of the border to work in the steel mills of Yorkshire he is now retired in California and has turned his hand to writing some of these tales that he had heard over the years, and now bringing those stories to life.

Willy Mitchell is an indie author, a writer, and a storyteller.
Listen to Mitchell's curated YouTube Playlist including some of his own compositions: Shanghai Night, Night Flight, Maskirovka, and Bells (& Whistle).

Bikini Bravo is my second book and sequel to Operation ARGUS.
A complex group of collaborators plot to take over the 6th largest oil-rich nation in Africa. Money, greed, power all motivate these different parties fueled with corruption, deceit, and hidden under a dark veil of Maskirovka. Mitch and his daughter Bella lead the struggle against these dark forces at work.
​
Are you ready for the truth?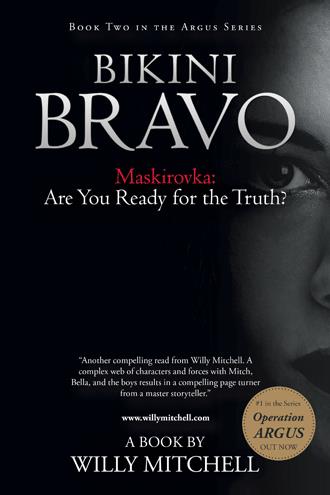 COLD COURAGE
Extraordinary Times
Willy Mitchell's grandfather meets Harry McNish at the Thistle Inn, in Wellington, New Zealand in 1929. In exchange for a hot meal and a pint or two, McNish told his story of the Endurance, the Imperial Trans-Antarctic Expedition of 1914, and his cat, Mrs. Chippy.
So legend has it, in 1913, Sir Ernest Shackleton posted a classified advertisement in the London Times:
MEN WANTED: For a hazardous journey, small wages, bitter cold, long months of complete darkness, constant danger, safe return doubtful. Honor and recognition in case of success.
The legend goes on that the advert attracted over 5,000 applicants, surely a sign of the times.
This is the story of the Endurance, the Imperial Trans-Antarctic Expedition of 1914, and all that was happening in those extraordinary times.
OPERATION ARGUS
Maskirovka
It's the final months of the 2016 campaign for the United States presidency. There is no question that the world is on edge. Mitch is a former British Special Air Service leader who is cautiously going about his life and business. In the international thriller, Mitch and a group of friends become intertwined in a complex mystery involving a drug cartel, the CIA, IRA, and the Russian mob while investigating a couple of mysterious deaths of former colleagues.
​
Are you ready for the truth?